'I'M REALLY PROUD THAT I CAN BRING IN TALENT INTO THE AREA'
A local cybersecurity company, aiming to help businesses and organizations halt cyberthreats, inked a deal with the County of Simcoe.
White Tuque announced the partnership on Wednesday, Jan. 25, which provides an opportunity for small to medium-sized businesses in Simcoe County to receive a cybersecurity assessment and plan at no cost, through a grant.
Funding is covered by The County of Simcoe's In-Market Support Special Projects Fund, combined with the federal government's Canada Digital Adoption Plan (CDAP) program.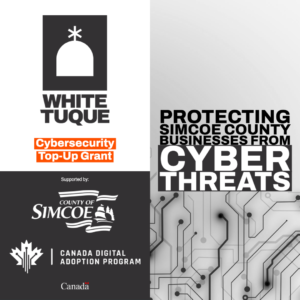 Robert D. Stewart, Founder and CEO of White Tuque, has lived in Simcoe County his whole life and says he has witnessed cyberattacks on organizations in the area firsthand, which makes this collaboration special.
"It's very difficult to see because I know the impacts," Stewart told Barrie 360. "I've had friends that have been out of work for a week because of [a cyberattack] … I'm really proud that I can bring in talent into the area to help these businesses."
Stewart says they saw an avenue where multiple programs, at the federal and county level, could be amalgamated to help the consumer. From there, they proposed the idea to those in the Simcoe County ecosystem.
"How can we maximize this, right? We can go out to rural-based businesses in Simcoe County, that maybe don't have the same supports as other folks, and really go in there and help them shut the front door to cyberattacks," said Stewart.
The Simcoe County native says it's all about being proactive, and determining how the business operates and what risk factors and threats are at play.
"If I was a bad guy, how would I try and attack you? The customer gets a full assessment by our experts, and we give them a basic response plan," said Stewart. "So, we make sure people are prepared for that and have a plan going forward to make sure their technology is secure, and people can't attack them through it."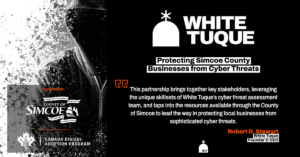 But how does White Tuque differ from other consulting firms offering cyberdefence?
"There's a lot of similar technologies through organizations, people use Office, they use Gmail, and we know what the best practices and standards are for that," said Stewart. "What we look at is the business processes: Who are the most important people in your organization? What do they do? What functions do they perform?
"What I find exciting is when you look across the people and processes – that's what's getting attacked – and that's where you can find good improvements and gaps that can be easily solved."
Businesses can apply for the Simcoe County Cybersecurity CDAP Top-Up Grant at www.WhiteTuque.com/SimcoeCounty. The deadline for the first round of applications is Tuesday, Feb. 14.
For more information on the program, visit www.WhiteTuque.com/CDAP.
And for general information about White Tuque, go to https://whitetuque.com/.